StartSearch
"Dr. Weiss is very thorough and detailed in her responses. Even when I was out of town for an emergency, I was able to call her and ask for her advice. She got back to me the same day. I strongly recommend her as an endocrinologist!"
"Dr. Weiss listens to your concerns, addresses it, and tries to successfully help with the concern. If that process doesn't work then she readdresses it on follow-ups. As well her goals seem to be to optimize her patient's overall health."
"Dr Weiss was very thorough. She took the time to ask a lot of questions, listened to my answers and addressed my concerns. She made worthy suggestions. She ordered labwork that other Doctors overlooked. I left her office with a sense of hope."
"Dr Weiss is very empathic, what I like most about her is that she REALLY listens. She's very knowledgable & always has a medical plan to follow through with. Very glad to have found her."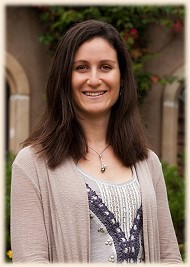 My educational experience for becoming an endocrinologist has taken me across the USA, from an undergraduate at the University of California, San Diego (Magna Cum Laude) to New York University School of Medicine, residency at Scripps Mercy San Diego and Endocrinology Fellowship at Stanford University. I am Board Certified in Internal Medicine and Board Certified in Endocrinology, Diabetes and Metabolism. I am very happy to return to my hometown of San Diego and to have the privilege of having my Endocrinology practice, Center for Hormonal Health and Well-Being, in Encinitas at 4407 Manchester Ave, Ste 101.
Within the broad field of Endocrinology I am particularly interested in disorders of the thyroid, pituitary, adrenals, lipids, and osteoporosis as well as the hormonal transition through mid life for both men and women. Other areas of expertise include the management of obesity, diabetes, metabolic syndrome and nutritional counseling. I enjoy offering educational programs to the community and I have given lectures at Golden Door, Rancho La Puerta, La Costa Glen, Scripps Diabetes Support Group, Scripps Distinguished Speakers Series, Rancho Santa Fe Senior Center and other venues. I am active on the volunteer clinical faculty of the University of California, San Diego School of Medicine and volunteer my time with Project Access. I have hospital staff privileges at Scripps Memorial Encinitas. I look forward to continuing to enjoy the pleasures of teaching, clinical research, and offering the highest level of care to my patients and community.
My philosophy on patient care is exemplified by Francis Peabody's statement, "The secret of the care of the patient is in caring for the patient." I truly believe that this is the best and only way to practice medicine.

---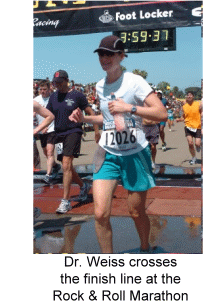 Dr. Weiss is a member of the American Association of Clinical Endocrinologists, American Society of Clinical Endocrinology, the Endocrine Society, American College of Physicians, and the San Diego County Medical Society. She has published several research papers in well known medical journals and presented her research results at international meetings.
In 2008, Dr. Weiss completed the San Diego Rock & Roll Marathon (pictured at right) and is looking forward to accomplishing an Olympic Triathlon in the near future. While not training, she enjoys trail running, swimming, tennis, rock climbing, skiing, photography, biomedical innovation and playing the acoustic guitar.